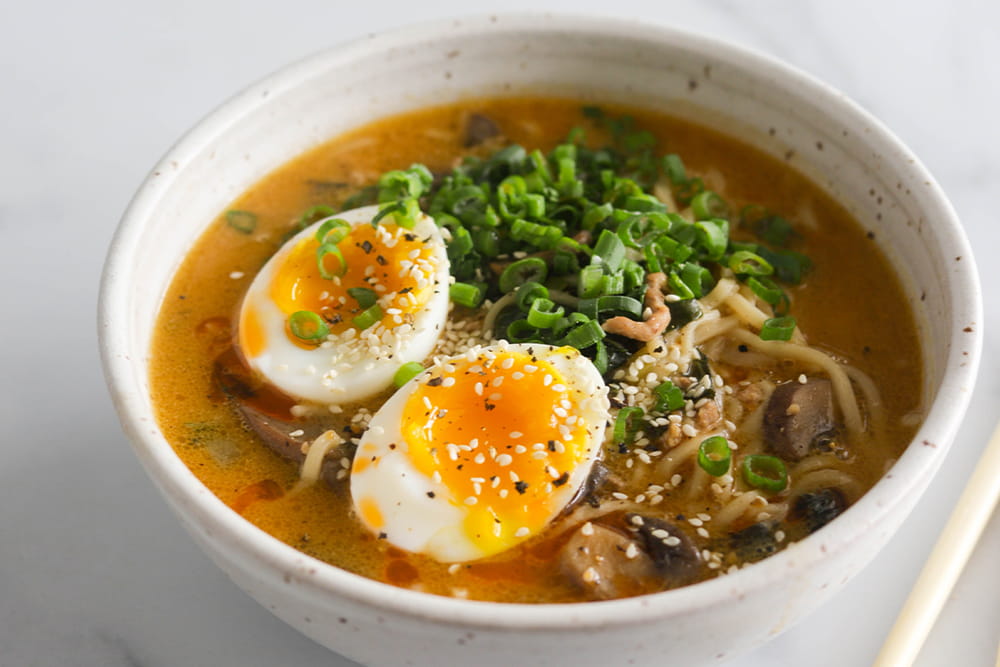 Spicy Miso Soup with Ramen
This miso soup is the best out there! It's a fabulous compilation of ground pork, tender ramen noodles, bok choy, shitake mushrooms and a dynamite broth made from miso paste, creamy peanut butter, soy sauce, chili garlic paste, ginger and green onion. The longer it simmers, the more flavorful it becomes. You're going to absolutely love it!
Ingredients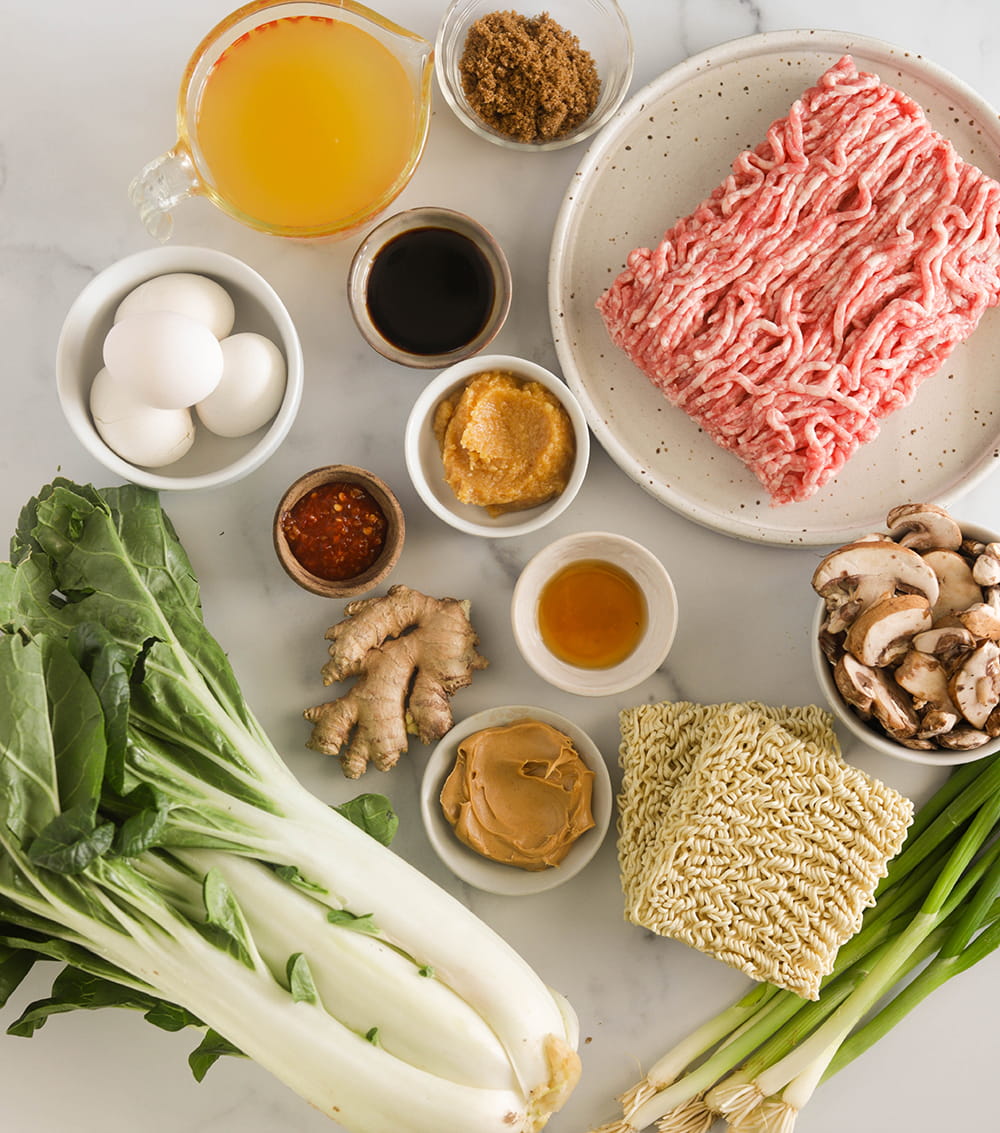 8 large eggs
1 tablespoon oil
2 heads baby bok choy, thinly sliced
4 ounces shitake mushrooms, sliced
1 medium bunch scallions, trimmed and thinly sliced, whites and greens separated, divided
½ -pound ground pork
3-inch piece ginger, peeled and minced
1 ½ teaspoons coarse salt (optional)
½ teaspoon ground black pepper
¼ cup miso paste
2 tablespoons low sodium soy sauce
2 tablespoons creamy peanut butter
1 tablespoon brown sugar
1 tablespoon chili garlic paste
2 teaspoons toasted sesame oil
6 cups unsalted vegetable or chicken stock
6 ounces ramen noodles (without seasoning packets)
Toasted sesame seeds and chili oil, for garnish
Instructions
To make soft-boiled eggs:
Fill a large saucepan with water and heat to a gentle simmer. Using a slotted spoon, lower the eggs, one at a time, into the water. Let simmer 7 minutes. Immediately remove the pot from the heat.
Gently drain the hot water from the saucepan. Add cold water to the saucepan and fill with ice cubes. Let the eggs cool in the ice water until they are cool enough to handle.
Gently crack each egg and remove the shells. Just before using, slice the eggs in half.
To make the miso soup:
Heat the oil to medium in a Dutch oven or soup pot. Add the bok choy, mushrooms and the whites of the scallions and sauté 2-3 minutes or until slightly soft. Set the green parts of the scallions aside. Use a slotted spoon to remove the vegetables from the pot and place them in a bowl. Set aside.
Add the ground pork to the pot, adding a bit more oil if needed, and sauté 7-8 minutes or until browned, breaking the pork up with a wooden spoon as it cooks. Stir in the ginger, salt (if using) and black pepper and sauté an additional 30-60 seconds, until the garlic and ginger are fragrant.
In a small bowl or liquid measuring cup, stir together the miso paste, peanut butter, soy sauce, brown sugar, chili garlic paste and sesame oil and stir to combine. Stir the mixture into the pork until combined, sauteing for about 30-60 seconds.
Add the stock and bring to a simmer. Stir in the ramen noodles and cook 7-8 minutes. Use tongs to break apart the noodles as they cook.
Let the soup simmer on very low heat at least 10-15 minutes to allow the broth to develop rich flavor. The longer it simmers on very low, the more flavor it will have.
Ladle the broth into bowls. Use tongs to distribute the ramen and vegetables into each bowl. Top each bowl with the soft-boiled eggs, sesame seeds and a drizzle of chili oil. Garnish with the remaining sliced green onion tops.
Notes
Instead of bok choy: Try it with spinach, chard or another leafy green vegetable. Frozen or fresh will work fine.
For the mushrooms: If you can't find shitakes or don't like them, use sliced white mushrooms or baby portabella mushrooms.
Instead of ground pork: Try any ground meat, such as turkey, chicken or beef.
For the miso paste: Use white or yellow miso paste.
For the stock: Use vegetable or chicken stock.
For the ramen: Use any Asian-style noodle or pasta.
Cooking Tip①:
Creating a paste of miso, peanut butter, soy sauce, chili garlic sauce and sesame oil and adding it to the pork to sauté (prior to adding any liquid) allows the development of richer flavors than if you were to add the paste directly to the broth. The more you can layer flavors during the cooking process, the more flavorful the soup will be.
Cooking Tip②:
As soup sits, it will become more flavorful. It makes for great leftovers!
Storage Tip:
Store the soup in airtight containers in the refrigerator up to 5 days. The soft-boiled eggs are best to use shortly after cooking and are not best when stored. Make fresh soft-boiled eggs just before serving the soup leftovers. Store the sesame seeds separately and garnish just before serving.
Nutrition Facts
・Total Fat 16g
Saturated Fat 5g
Monounsaturated Fat 3g
Polyunsaturated Fat 5g
Trans Fat 0g
・Cholesterol 206mg
・Sodium 643mg
・Potassium 344mg
・Total Carbohydrate 25g
Dietary Fiber 2g
Sugars 5g
・Protein 16g
・Vitamin A 5950IU
・Vitamin C 22.5mg
・Calcium 455mg
・Iron 2mg
Profile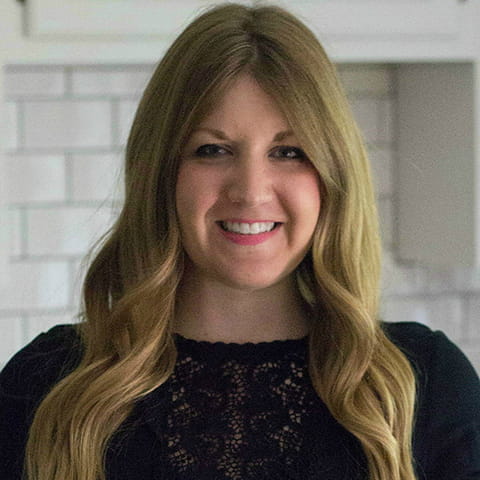 Julie Andrews
Julie Andrews, MS, RDN, CD is a registered dietitian nutritionist and trained chef with a master's degree in human nutrition. She is the creator and owner of The Healthy Epicurean, where she is a food and nutrition consultant, 4-time cookbook author, recipe developer, food photographer, and writer. She shares simple, wholesome and delicious recipes on her blog. Julie's greatest passion is helping others build confidence in the kitchen and inspiring them to cook for themselves, as she truly believes it's the ticket to better health and a more enjoyable life.
See Other Recipes