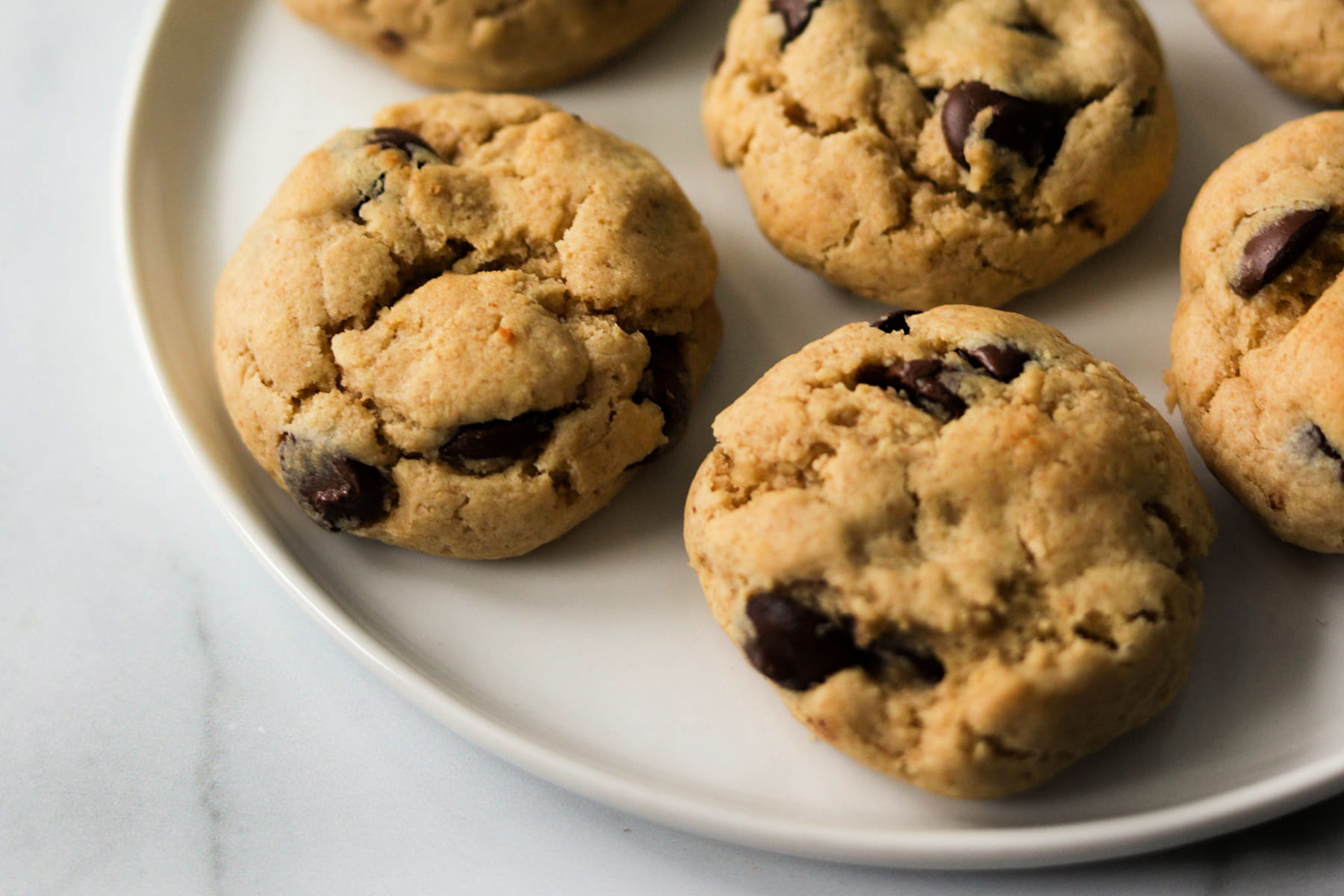 Miso Chocolate Chip Cookies
Behold the perfect chewy chocolate chip cookie! These little cookie morsels are just the right texture, have a deliciously bold vanilla flavored-dough and chunks of dark chocolate. They truly are the definition of the best chocolate chip cookies out there.
Ingredients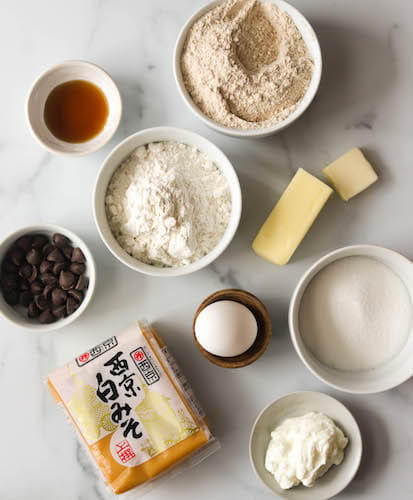 1 cup all-purpose flour
½ cup whole wheat pastry flour or whole wheat flour
½ teaspoon baking soda
¼ teaspoon coarse salt
4 tablespoons butter
½ cup granulated sugar
1 large egg
3 tablespoons plain Greek yogurt
2 tablespoons miso paste
1 teaspoon vanilla
¾ cup dark chocolate chips
Instructions
Preheat the oven to 350 degrees. Line a baking sheet with parchment paper. Set aside.
In a medium mixing bowl, whisk together the flours, baking soda and salt until combined. Set aside.
Place the butter in a large glass mixing bowl. Microwave on high 30 seconds or just until the butter is mostly melted (it can have small chunks of soft butter that aren't completely melted).
Add the sugar and egg to the bowl. Use a hand mixer or a whisk to beat or whisk the mixture until fluffy and pale in color. Add the yogurt, miso paste and vanilla and beat or whisk until the mixture is thoroughly combined.
Add the dry ingredient mixture to the wet ingredient mixture a little bit at a time, beating with the hand mixer until just combined and it resembles cookie dough. Alternatively, use a spatula to fold together the ingredients until just combined (a hand whisk is not the best tool for this step).
Use a spatula to fold the chocolate chips into the dough until just combined.
Use a medium cookie scoop to form about 2-inch balls of the cookie dough. Roll them between your hands, then line them on the prepared baking sheet at least 1 inch apart.
Bake 9-12 minutes or until the cookies are just starting to set and the bottoms are faintly browned. Let them slightly cool before enjoying.
Notes
For the flours: You can use all-purpose flour, whole wheat flour, whole wheat pastry flour or gluten free all-purpose flour or a combination of these flours for this recipe. You could also try it with oat flour (although I haven't tested this).
For the butter and yogurt: I like a combination of butter and plain Greek yogurt, but if you want to use all butter, go for it! You could also try using coconut oil + butter or coconut oil + Greek yogurt, if you want (although I haven't tested this). The coconut oil would not yield the same buttery flavor as butter, but should yield a similar texture.
For the sugar: You can use a combination of granulated and brown sugar, if you like a bit of that molasses flavor in your cookies.
For the egg: I have not tested this recipe with any egg substitutes, but many people use egg replacer (like Bob's Red Mill) or make a flax 'egg' (1 tablespoons ground flax mixed with 2 tablespoons of water, refrigerated for 15 minutes) to use as a substitute.
For the chocolate chips: You could use milk chocolate or semi-sweet or varying levels of dark chocolate. You could also use chocolate chunks instead of chips.
Add nuts! Reduce the chocolate chips to ½ cup and add ¼ cup chopped walnuts or pecans.
Nutrition Facts
・Total Fat 8g
Saturated Fat 4g
Monounsaturated Fat 1g
Polyunsaturated Fat 0g
Trans Fat 0g
・Cholesterol 11mg
・Sodium 173mg
・Potassium 6mg
・Total Carbohydrate 28g
Dietary Fiber 2g
Sugars 14g
・Protein 3g
・Vitamin A 990IU
・Vitamin C 0mg
・Calcium 20mg
・Iron 8mg
Profile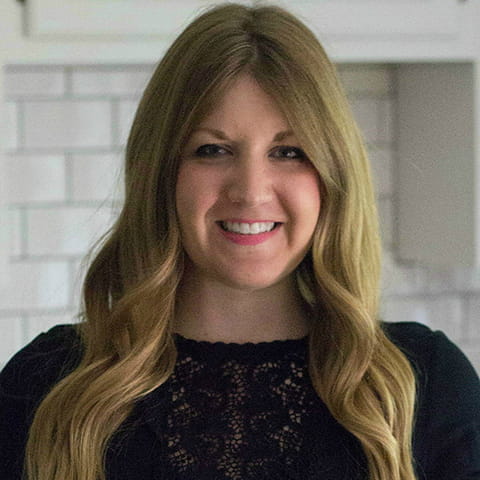 Julie Andrews
Julie Andrews, MS, RDN, CD is a registered dietitian nutritionist and trained chef with a master's degree in human nutrition. She is the creator and owner of The Healthy Epicurean, where she is a food and nutrition consultant, 4-time cookbook author, recipe developer, food photographer, and writer. She shares simple, wholesome and delicious recipes on her blog. Julie's greatest passion is helping others build confidence in the kitchen and inspiring them to cook for themselves, as she truly believes it's the ticket to better health and a more enjoyable life.
See Other Recipes