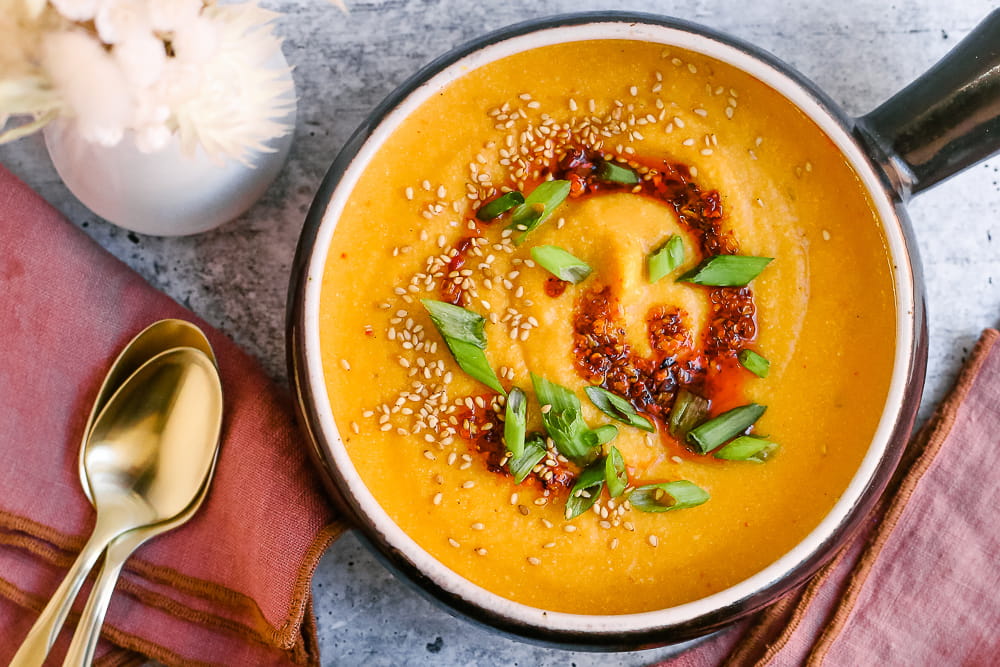 Miso Butternut Squash and Sweet Potato Soup
This rich, creamy soup is cozy and delicious, and easy to prepare in a slow cooker! It is a spin on a traditional blended soup using a base of sweet potatoes and butternut squash. Miso, ginger, and chili oil will warm you up from the inside out!
Ingredients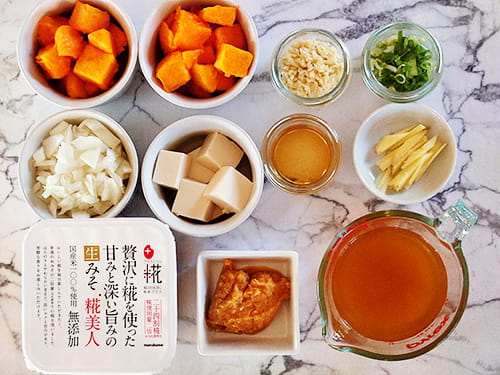 2 large sweet potatoes peeled and roughly chopped
1 medium butternut squash peeled, deseeded, and roughly chopped
1/2 white onion diced
1 tbsp sesame oil
3 cloves garlic minced
1 1/2 tbsp fresh ginger roughly chopped
3 cups low-sodium vegetable broth
3 tbsp miso paste divided
1 tsp red pepper flakes
1 pinch kosher salt
14 oz soft or silken tofu
Green onions, toasted sesame seeds, chili oil for garnish
Instructions
Prep the butternut squash and sweet potato by peeling and roughly chopping into cubes less than 1" wide. Try to chop into similar-sized pieces to ensure even cooking. Place in the bowl of your slow cooker.
Meanwhile, heat the sesame oil in a skillet over medium-high heat. Once the oil is heated, saute the diced onion for 2-3 minutes or until fragrant and translucent. Add the garlic and ginger and cook 1-2 minutes more or until the ginger softens. Remove from heat and add to the bowl of your slow cooker.
Pour in the vegetable broth and add half of the miso paste, red pepper flakes, and salt. Stir to combine, then cover and cook on LOW heat for 4 to 5 hours (or HIGH heat for 3-4 hours).
Towards the end of cooking, drain the block of soft tofu and chop into cubes. Remove the lid of the slow cooker and add the tofu and remaining miso paste.
Blend in batches or use an immersion blender to puree the soup to a smooth consistency. Add additional vegetable broth as needed if you want a thinner consistency.
To serve, ladle the soup into bowls and garnish with a drizzle of chili oil, sliced green onions, and toasted sesame seeds. Serve immediately or store leftovers in the refrigerator for up to five days.
Nutrition Facts
・Carbohydrates 67g
・Protein 12g
・Fat 7g
Saturated fat 1g
Polyunsaturated fat 4g
Monounsaturated fat 2g
・Sodium 600mg
・Cholesterol 0mg
・Potassium 1488mg
・Vitamin 45mg
・Calcium 188mg
・Iron 4mg
See Other Recipes